What is the longest road? – Pan-American Highway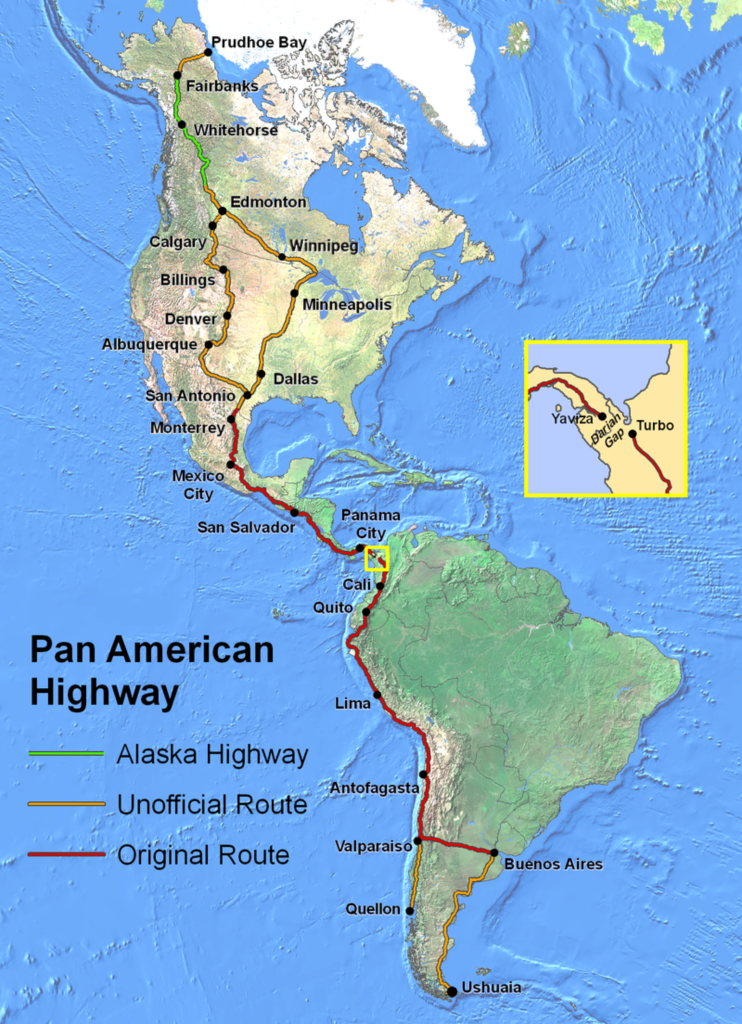 There are close to 66 million kilometers of roads all across the world. The title of the longest motorable highway belongs to the Pan-American highway also known as La Carretera Panamericana. It is not a singular road but instead consists of various routes with different terminuses. According to Guinness World Records, the road is 24,140 km (15,000 mi) long which is equivalent to traveling between Paris and Rome 22 times. Other sources using different routes claim the highway is as long as 30,000 km (18,641 mi). It starts at Prudhoe Bay or Fairbanks, Alaska and it has several endpoints in South America including Quellón in Chile and Ushuaia in Argentina. If you decide to go on an adventure and travel across this highway, it will take you around 2 months to cross it, assuming you travel around 500 km (300 mi) per day.
In total, Pan-American Highway stretches through 14 countries – the USA, Canada, Mexico, Guatemala, El Salvador, Honduras, Nicaragua, Costa Rica, Panama, Colombia, Ecuador, Peru, Chile, and Argentina. Important spurs of the highway also connect to Brazil, Bolivia, Paraguay, and Uruguay.
While driving on the highway, you can expect to see all imaginable landscapes ranging from dense forests to dry deserts to snowy mountains. Some of these areas can only be passed during the dry season. The trip's highest point is at the Cerro de la Muerte (Death Hill) in Costa Rica where the height reaches 3,335 m (10,942 ft) above sea level.
The idea of building the Pan-American highway to connect the countries was suggested in 1923 during the Fifth International Conference of American States. The Convention on the Pan-American Highway was signed in 1937, whereby the countries officially agreed to construct the highway. Mexico was the first country to complete its portion in 1950. In some countries, like the USA and Canada, no single route has been designated as a part of the Pan-American Highway to this day.
While Pan-American Highway is the world's longest motorable road, it contains Darién Gap which is a ~106 km (66 mi) gap between Panama and Colombia. The gap exists because it is hard and expensive to build in this area and it contains various protected species and indigenous groups.
It is only possible to cross the Darién Gap by taking a difficult and dangerous four-day hike through one of the most inhospitable and dangerous areas of the planet. While crossing it, you can run into local gangs, dangerous animals, drug traffickers, and paramilitary forces. An alternative to crossing the gap is to either take a ferry around it or fly across and buy a new car to continue your trip.
Crossing the Pan-American Highway from end to end is certainly a challenge and various world records exist associated with it. In 2018, Austrian cyclist Michael Strasser cycled across the highway in 84 days 11 hours and 50 minutes. The world record for crossing the highway on foot belongs to George Meegan who walked over 30,000 km from Argentina to Alaska in 2,426 days or more than 6.5 years.
---
If you enjoyed this article, you will also enjoy my YouTube Channel where I talk about various interesting topics in short and educational videos! 🙂